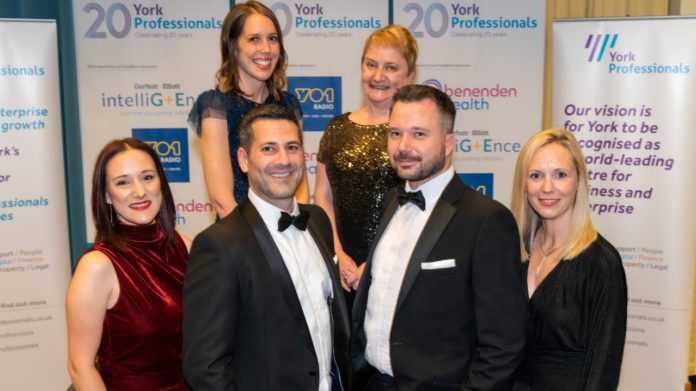 York Professionals is a fantastic group representing professional services businesses in our home city of York. There's always lots going on – they have 140 members and counting, regular events, and an annual dinner that's a highlight in the local business calendar.
Our involvement goes way back, and our most recent brief was to create a video to mark the York Professionals 20th anniversary.
The annual dinner is always a lively affair, bringing together well over 100 people to celebrate the city's finest professional services businesses.
The Casino Royale themed dinner in October 2021 had a particularly jubilant atmosphere, finally taking place long after its original planned date of May 2020 (I think we all know what happened there).
Ahead of the dinner, York Professionals brought together all the previous chairs for a 'virtual round table' discussion, reflecting on the highlights of the last 20 years and the group's achievements. Our job was to take the raw Zoom footage and edit it into a short format that could be shown at the annual dinner to chart the evolution of the group over two decades. Essentially, distilling two decades of success into five minutes – no mean feat! But we like a challenge.
Which is just as well, because pinning people down on the night amid the celebrations to find out what they value most about their membership wasn't always easy either, faced with stiff competition from animated dinner table conversation or time at the casino tables. Add in a lively atmosphere and a singer as a backdrop, and we had our work cut out! Fortunately, we weren't short of people keen to tell us their York Professionals story, and we came away with plenty of raw footage to work with.
Once we had the raw footage, it was a matter of editing the content; making sure the sound was honed and colour was corrected. The professionals we interviewed were, of course, very professional! So not much editing was required there. We worked to not only provide the longer video for the annual dinner, but also smaller fragments of video that could be used elsewhere. It was important to us to add value and provide a little extra to help with the membership.
The testimonial videos will be used on the York Professionals website and across social media platforms to create snippets of relevant content for target audiences. They include snapshots of the annual dinner and capture members talking about why they join and what they get from their association with York Professionals.
"
The Inkblot team are INCREDIBLE. They have allowed York Professionals to utilise video in our marketing communications for the first time and made it a realistic proposition for us.
They have worked closely with us, guiding us through our first stab at video production from the initial storyboard stages to the finished product. They clearly have a passion for getting to the heart of a client's requirements, and both Mike and Jay have worked with us to fully understand the brief, guide us, and provide useful comments for consideration.
I also have to mention their editing capabilities: they took a Zoom recording and teased out the key messages to make sure that the final videos hit the right note and created a maximum impact at our 20th-anniversary dinner.
They are fantastic at everything they do. Flexible, adaptable, and so easy to work with, they capture exactly what we need. Whether it's gathering feedback from our members or capturing the mood of an event, they always go the extra mile and they always deliver.
Jo Pickering
York Professionals Administrator
Let's
create

something big
From a process animation or explainer video to a music video production, if you have an idea that involves video, talk to us.