by Esther Roberts
Here at InkBlot Films we're giving you our top Christmas films. We know the holiday will be different this year. So what better way to get through all the hustle and bustle of pandemic craziness than bunkering down with a glass of mulled wine, and watching a Christmas film! But with a genre as overgrown and stuffed as the Marvel franchise, how will you choose which movie to view? Have no fear, InkBlot Films are here! Are they films you love? Are they films you loathe? Follow us down this magical list and allow us to put you in the holly, jolly spirit.
Mike – 'Home Alone' (1990) & 'Home Alone 2′ (1992)
'It sums up Christmas through relatable characters from the annoying big brother who plays drums on his brother's head during the school xmas play (go Buzz), to the comically huge family who leaves their kid at home (as if), to the pigeon lady who bucks the trend of homelessness without a heart (shown in stark contrast to the thieves who steal more than they need but are never satisfied, of course) and last – but not least – the wet and sticky bandits and their journey through the houses as they fight Kevin.'

Mike's Christmas Film 2020
I only watched 'Home Alone' a couple of years ago but I absolutely see the appeal this would have on a young child. 'Home Alone' is the embodiment of fun. It never takes itself seriously yet it presents characters that everyone can relate to. Bully brother? Check! Hectic family? Check! Old man with a shovel? Maybe not so much on that last point but you understand. I'm sure everyone has once dreamt of what it would be like if your family left. All the things you would do, sweets you would eat and fun you would have. Macaulay Culkin shines in both films, streetwise and funny, giving us so many small moments which evoke so much fun. The 'Home Alone' films cleverly walk the line between fantasy and reality, but bring that Christmas spirit every step of the way. If you're someone who is feeling a little cynical this Christmas season, I definitely recommend connecting with your youth and giving Mike's choice a watch.
Serena – 'Scrooge' (1970)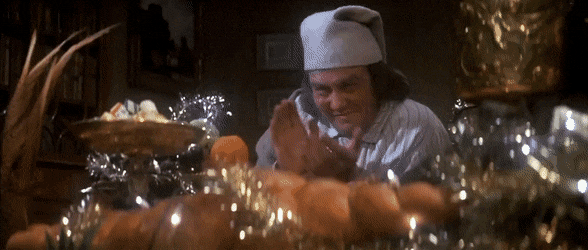 'This was actually difficult, as I don't really watch Christmas films anymore. As a child though, the musical version of Scrooge was my go to. I had recorded it on VHS from the television, and watched it every year and more. I think it's the songs that do it for me. 'I Like Life' and 'Thank You Very Much' being the ones I remember best. There's very much an Oliver or Chitty Chitty Bang Bang vibe to the songs. I'm pretty sure that it's also the first adaptation of A Christmas Carol I saw too. The final scenes, when Scrooge has changed, are just so wholesome and uplifting. Perfect Christmas atmosphere!'

Serena's Christmas Film 2020
I hate to admit it but I had never heard of this film before Serena presented it to me. But a few YouTube clips later and I'm completely enamoured! It definitely has nostalgic vibes for the musical renaissance that happened in the film industry. The songs are filled with joy and grandeur much like 'Oliver' or 'Chitty Chitty Bang Bang'. They just sound like classics. Instantly bringing you back to a time where it really felt feasible that people would just burst into song and dance on the street. It feels like a relic from your childhood. Something that you can come back to time and time again, passing it down from generation to generation. If there is any Christmas film I'm going to seek out and watch it's this one. 'Scrooge' feels like soup for the soul, hearty and warm. If you're someone who is seeking out that festive spirit I definitely recommend rejuvenating that spark and giving Serena's choice a watch.
Jay – 'The Lion in Winter' (1968)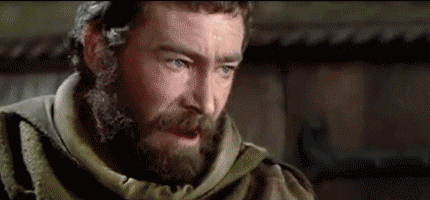 'It's smart, sarcastic, subversive and incredibly human despite the egos of these characters. All the performances are absolutely stellar, Peter O'Toole and Katharine Hepburn are having a blast in these roles, Hepburn even won as Oscar for her portrayal of Eleanor and it's criminal that O'Toole didn't. The supporting cast are amazing too, with a young Anthony Hopkins showing he's always been a thespian and a cheeky bit of Timothy Dalton thrown in for good measure. The film's score is mind blowing too, by York's own John Barry, earning him his well deserved 2nd Oscar. So, in a world of Avengers Endgames and by the numbers Conjurings, more attention should be drawn to a film which is pure script and character, which above all is an hilariously fun ride. Just watch Lion In Winter! That's all I can say.'

Jay's Christmas Film 2020
Trust self confessed nerd Jay to come up with yet another Christmas film I have never heard of. It is definitely the most cinematic of the bunch, 'The Lion in Winter' is not your typical Christmas film. But then again what exactly constitutes a Christmas film? Blog post soon to come… It focusses primarily on Henry II of England and his imprisoned wife Eleanor of Aquitaine. Henry brings Eleanor out of her tower for a family Christmas in 1183 and uses this family gathering to decide which of his sons should be his successor to the throne. He stands by while the chaos of sibling rivalry ensues, sniping and goading Eleanor with manic festive glee in the process. See… the royals aren't so different after all. With breathtaking shots, set pieces and costume design, this epic tale is sure to gain some new fans. Incredibly witty and quotable, if you're looking for something a little bit more sophisticated than your average Christmas romp I definitely recommend Jay's pick.
Esther – 'The Grinch' (2000)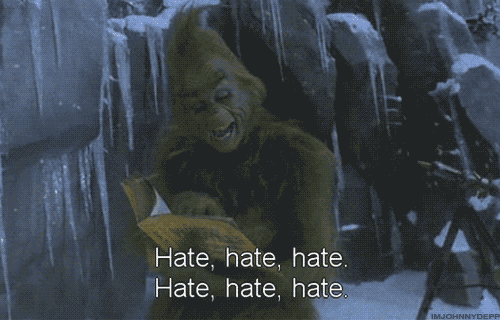 I wish I had a deep, sentimental story about why I love this film so much but I don't. I just think it's so funny. Jim Carrey is absolutely amazing and completely in his element as both scary and hilarious in this performance. The world building is fantastic (they literally live on a snowflake), and the characters of the Whos have a very distinctive look with their pointy noses and buck teeth. The Christmas aesthetic is gorgeous even down to the hair and fashion. I haven't seen the original 1966 'How the Grinch Stole Christmas!' or the latest 'Dr Suess' The Grinch' (2018). But I don't think either of them could match up to the feeling I get when I watch this live adaptation. The commentary on consumerism is really interesting. Cindy-Lou Who sings 'Did Christmas change or just me?'. I really like this element because it feeds into the Grinch's own view on Christmas and what it has become. Only after he's exacted his plan and stolen all the presents does he realise the true meaning of Christmas. As all the Whos downtown hold hands and sing together the Grinch says 'Maybe Christmas doesn't come from a store'. Christmas isn't about the presents. Christmas is about the time you spend with the people you love, the laughter and smiles you share. I feel like more than ever this message rings true this year. At first I was feeling a little like the Grinch but I found this charity project in which you donate toys to unfortunate children and its made my heart grow three sizes bigger. I feel like there's no better season to give back than this one. If you're someone who feels a little downtrodden this Christmas, I definitely recommend my pick. It'll fill you with a bellyful of laughs and a heart full of warmth.
We're all winners here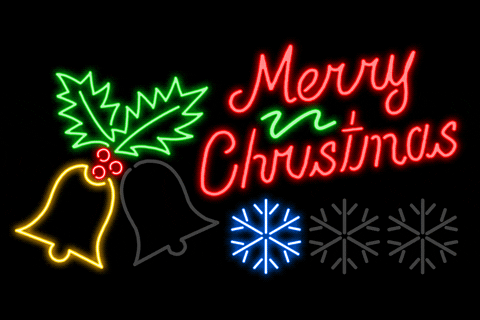 In the end, we're all winners here! No matter which film you pick, from our list or yours, make sure your Christmas is filled with smiles. From classics like 'The Snowman' to Netflix hits like 'The Christmas Prince' saga, there is a Christmas film for everyone. You might even find your new favourite! We at InkBlot Films have much more super fun, festive content coming up – quizzes, blog posts and videos galore – you'll want to stick around for a very, merry InkBlot Christmas.