What are Internships really like?This is for you.
If you're a student looking for an internship with your University or curious about what the experience of interning is really like, this firsthand experience is was written for you.
Why this Internship Diary Exists.
Esther kindly wrote this diary with support from Mike, Jay and Serena during her 6 week, 125 hour internship with InkBlot Films in November – December 2020.
We feel that it's extremely important to support emerging talent and that it creates a win-win situation where all team members gain new experience.
Whether you look at the benefits from the perspective of the junior team member who develops their skills or that of the host organisation who learn how to work with others and grow their business, it's important to monitor the individual and the placement properly to ensure the desired outcomes are achieved.
At InkBlot Films, we always aim to exercise best practice and ensure we follow systems that encourage sustained and high-quality processes.
We want our processes to be easily repeated and improved as to absorb new learning. We are currently exploring 'Radical Candor' and 'reverse-mentoring' frameworks, amongst others.
Ultimately, we hope that our robust and structured approach to internships guarantees feedback is well balanced and development runs two-ways.
Read on to find out how we got on with Esther, our second intern, ever.
Did we hit the mark for her needs?
Week 1/6: Introductions, planning and skills matching.
After a meeting with my university, I had the pleasure of meeting Mike and Jay again! The two brains behind this whole operation, who I hadn't seen since my initial interview. Once the formalities were over and we were joined by Serena who is in charge of social media we got down to business. We started detailing the kind of content that I would like to make and how it merges with the kind of content that InkBlot would like me to make. You scratch my back, I scratch yours kind of deal. We went over some ideas, a blog, newsletters, social media posts, all the good stuff – and then I cracked on. I spent the first week researching each of these, making sure that I had all the information I would need. As a blogger myself I found it especially important to research the practice of writing for a business blog as my words would not just be read by friends who I force to read each post. But the audience of InkBlot and getting that right was very important to me. By the end of the week, I had all I needed to know about email marketing and business blogs and peak times to upload on social media, all I needed to do now was put my words into practice.
Week 2/6: Onboarding systems, staff feedback and filming vlogs.
Monday mornings are home to the 'Staffy Look Ahead' meetings which sees us each reflect on the week that has just passed (using the L.I.O.N system) and what we plan to do for the week ahead. Serena had called for a meeting regarding social media afterwards so as soon as our weekly goals were set we hopped off the call and discussed the work she was doing on InkBlots social media and how to increase engagement and activity. But the fun didn't just stop there, just like social media is a process of uploading, liking and sharing, so is writing content and with Mike's help (and a little ClickUp training at the same time) together we worked on a template of how to get through the content writing process. I actually got the opportunity to be in front of the camera when I filmed my intro video, welcoming me into InkBlot Films as their latest intern. I also filmed a small vlog detailing my first week, which I shall continue to do until the end of my internship.
Week 3/6: Seasonal content, Netflix watch parties and independent content writing.
Halfway through my internship and this week got a little more interesting because after our usual Monday meeting we had another one regarding Christmas content! Jay, Serena and I sat down and brainstormed some ideas for Christmas content such as videos and blog posts which is super exciting. We decided to do special Livestream of a Netflix Christmas film named 'The Princess Switch: Switched Again' and I chose to write some posts regarding each of our favourite films and about the notion of Christmas films. I spent the rest of the week going through the process of writing which I mapped out with Mike, planning each blog post and eventually writing them towards the end of the week. I got each member of InkBlot to give me their favourite film and why so I could string it all together with my thoughts. I really enjoyed finding out everyone's favourite Christmas films and why they were so important – as well as getting into the Christmas spirit myself. We also discovered quizzes for the website which I was most excited about as a regular on buzzfeed.com. This week I really got down to writing content which was great and worked really well due to taking our time figuring out processes and streamlining the system.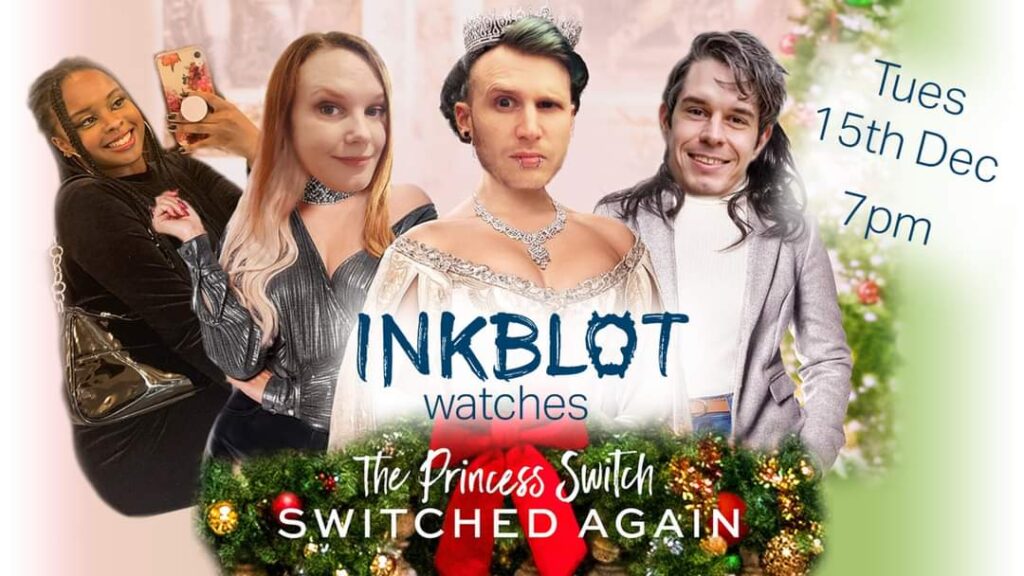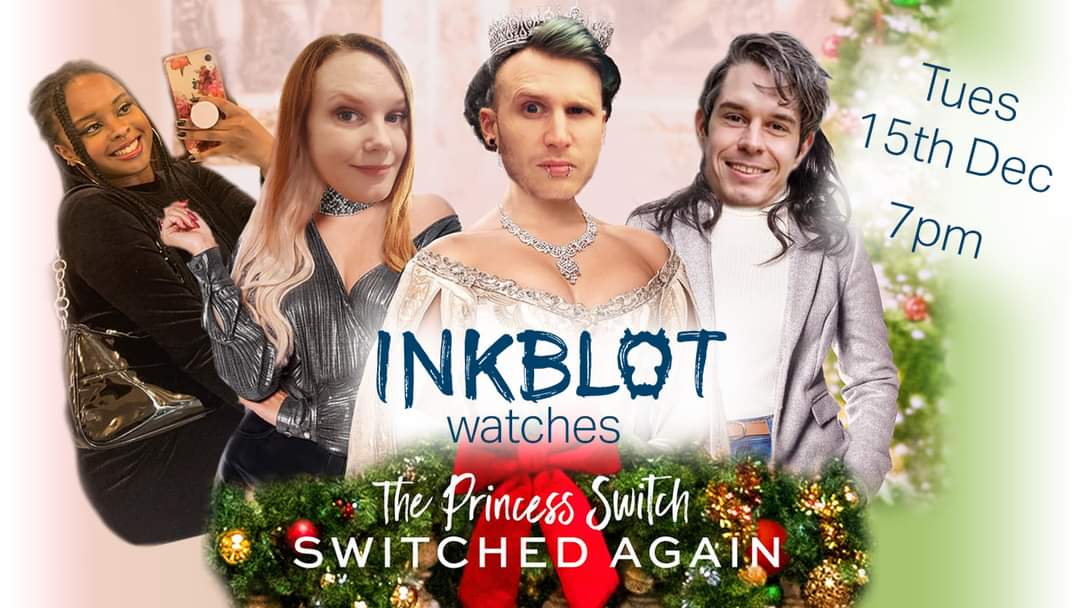 Week 4/6: Quizzes, proofing and aligning content to brand.
Still in the Christmas spirit I wrote the second blog post about what makes a Christmas film and then started on the greatest quest of all… quizzes! Fiddly little things but also so much fun. I started off with the Quizmas quiz as that was advertised at the end of my first Christmas blog post and then continued creating ones that I thought would best suit the InkBlot brand, a quiz about York and regarding film composers. I also got to do some editing of work that was not my own which was a little daunting as I'm so used to only critiquing myself, but Mike had written a blog post not too long ago which needed to be looked over. I gave him some pointers and we edited it down, using the written process along the way. The best part though was when we started to work towards getting things together for the livestream. In the evening Mike, Jay and I sorted out the software OBS and how the whole operation would work.
Week 5/6: Publishing content, Social platforms and livestreaming.
My penultimate week at InkBlot Films was quite a fun one, resulting in my first evert written piece being published on the site. It was the blog post about all of our favourite Christmas films and I really enjoyed sharing the post on social media, along with Serena, making sure that it was seen by as many people as possible. I took the same approach as I did with my own blog post and shared the link across my Twitter, Snapchat, Instagram and even LinkedIn. Another piece of promotion I did was for our Princess Switch Livestream event that we will be doing next week. Jay whipped up an amazing poster for it which we've all be sharing on social media, trying to get the word out there. Even though I am nervous I have had a taste of being in front of the camera as I filmed my review for Netflix's 'Jingle Jangle: A Christmas Journey' which I watched earlier in the week. I actually found it so much fun and thanks to the format created by Jay and Serena I found it super easy to relay my thoughts and feelings, hopefully in an entertaining and funny way. I, of course, did my weekly tasks of updating this blog and filming a vlog, alongside working on the quizzes I made, refining them to fit with the brand image and taking on all the feedback I got from everyone. After the initial live streaming test we did, I'm sure this Livestream will be just grand!
Week 6/6: Testing, measuring and video editing.
My last week at InkBlot Films and wow what a ride it has been. I've had so much fun working with some of the best people, and have really developed skills that I never thought I would. Being in front of the camera wasn't something I thought that I had signed up for but it ended up being one of the highlights of my whole internship. We started the last week with the well anticipated livestream on YouTube which went as well as anyone's first livestream would go. Apart from some technical difficulties, I had so much fun! I think the best and weirdest part was actually seeing the viewers increase and just knowing that people were actually watching us. It was a but of a surreal experience but ultimately, so much fun. I also finally finished our Christmas quiz, changing the colours to be on brand with the holiday but also changing the non-festive quizzes to fit the brand identity of InkBlot Films which is arguably the most important task of them all. To round up the week I did something that I've never done before… editing. I'm not so much a behind the camera person, always preferring to write scripts in my film classes but as I'm working with a video production company its a given. I actually had a lot of fun editing together out review of Jingle Jangle. At first it was a little stressful and tedious going through so much footage trying to find appropriate parts. But once I had a little bit of a structure it all kind of came together, and of course with a little bit of magic from Jay it turned out amazing.
Final Reflections: Skills Development, Reflection and Future Planning.
Overall, I have thoroughly enjoyed my internship with InkBlot Films. I've been able to strengthen some of my existing skills, such as blog writing and content creation. But also build skills that I never thought I would such as editing and my confidence. I really enjoy being in front of the camera and allowing my personality to show and that is something that I will definitely be taking with me once I've finished. These last six weeks have been a dream, I never thought I would get a graduate internship, never mind one working with like-minded, genuine people who have made this experience incomparable. I hope many others get the chance to work with InkBlot Films and allow themselves to learn more about, not just video production. But what it's like to run a business and be extremely proud of the work you're going to create and the audience you're going to engage with.
Content Produced
Links
Other Content
Creating our 'content production' template, giving step-by-step instructions and guidance for all content produced
Everyday People's Freelancer Directory, review (proofing existing blog)
Merry Quizmas (social quiz)